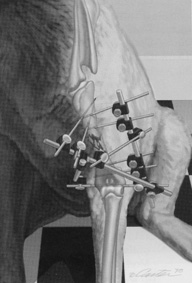 Our orthopedic Surgery services include:
MMP Cruciate Repair
Ridge Stop Patellar Luxation Repair
S.O.P. Fracture Repair
Cruciate Ligament Rupture Stabilization with Lateral Suture (CCR)
Femoral Head Osteotomy (FHO)
Amputation
Adjunct Orthopedic Services Include
Laser Therapy
Intra-Articular Fluid analysis, removal and replacement with Hyaluronic Acid (HA) or Platelet Rich Plasma (PRP) and Stem Cells, Intra-Lesional PRP and Stem Cell (Torn/Calcified Tendon/Ligament)
Acupuncture
Veterinary Medical Manipulation
Thermoplastic Splints
Custom Braces
Wheelchairs
We can evaluate your pet for orthopedic injury or disease. We do limited orthopedic procedures as most cases can be serious and require a board certified orthopedic surgeon. We are happy to help you get started and referred to the proper facility for the best possible outcome.
Leg fractures are the most common orthopedic problem presented at our clinic and usually result from a mishap with an automobile. They can be treated in a variety of ways depending on the location and type of fracture. We can use Companion laser therapy in many cases; however, many fractures will require surgical intervention:
"Pinning" stabilizes the fracture by inserting a long stainless steel rod into the middle of the bone across the fractured area.
"Plating" involves attaching a flat stainless steel plate to the bone using screws on either side of the fracture.
"External fixation" stabilizes fractures using a series of pins on the outside of the leg that pass through the skin and into the bone on either side of the fracture.
Please contact us if you have any questions about these procedures or if you think your pet might benefit from them.