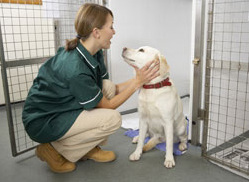 We have state of the art equipment monitoring blood pressure, capnography, ECG, heart rate, respiratory rate, pulse oxygen and temperature.
We have a heated surgery table, heated air blankets and IV fluid warmer. All patients receive an IV catheter and fluid therapy to maintain blood pressure and have Emergent IV access at all times surrounding an anesthetic procedure.
We monitor our patients closely to keep them as safe as possible during procedures that require general anesthesia. We know anesthesia can be very scary for pet owners. We take anesthesia and monitoring very seriously warranting the best equipment and trained staff to have the best possible outcome for your beloved pet.
Please feel free to ask us about our patient monitoring protocol or any concerns you might have about your pet's procedure. We'd be happy to discuss these matters in more detail.